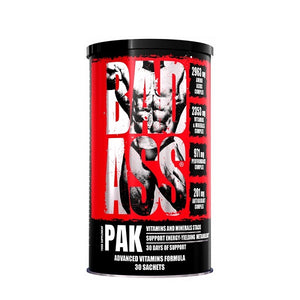 Bad Ass Pak Multivitamin 44 sachets 
What are the benefits of BAD ASS PAK?
Complex formula providing support on multiple levels - vitamins and minerals, amino acids, plant extracts, antioxidants and performance enhancing components
Beneficial support in reducing fatigue and maintaining a sense of well-being - magnesium, vitamin C, B vitamins
Support for the maintenance of normal muscle and nervous system function, beneficial effects on cognitive function and optimal energy metabolism - including zinc, magnesium, calcium, vitamin C, B vitamins
Valuable support for healthy bones and correct collagen synthesis - magnesium, manganese, vitamins C and D, among others
Ingredients that support optimal testosterone levels in the blood, regulate hormonal activity, and contribute to normal reproductive system function and fertility
Additional protection for cells against free oxygen radicals and oxidative stress, beneficial support for normal immune function – including vitamins C and E, zinc and selenium
Support for keeping the skin, hair and nails in good condition and help to eliminate their imperfections caused by e.g. the progressive ageing process of the body – e.g. zinc, copper, selenium, biotin, selenium, vitamins A, C and D
Presence of ingredients that support vision and eyesight – including vitamin A, zinc, lutein
Beneficial effects on processes related to the heart and cardiovascular system including blood production, erythrocyte synthesis, blood pressure values - zinc, B vitamins, iron, L-arginine, hawthorn extract, folic acid, among others
Help to maintain adequate blood glucose levels and optimal insulin sensitivity - chromium and inositol, among others
Support for proper liver function, proper lipid metabolism and maintenance of adequate triglyceride levels in the blood - choline and inositol, among others
USE:
Take the contents of 1 sachet with food. Drink plenty of water.