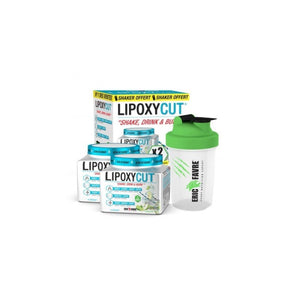 Eric Favre Lipoxycut Combo plus mini Shaker
LIPOXYCUT® is a concentrated formula based on 19 ingredients including green tea which inhibits catechol-O-methyl transferase, an enzyme involved in body fat thermogenesis (fat burning) and is known to facilitate the renal elimination of water . Protein helps increase muscle mass. Vitamin C contributes to the reduction of fatigue, to the normal functioning of the nervous system and to normal energy metabolism. Juniper promotes the metabolism of fats and carbohydrates. Allied slimming and pleasure with its delicious green apple-lime flavor.
USE:
Take 1 scoop (8 g) diluted in 300ml of water, preferably in the morning or 30 minutes before sport. Mix well.
Servings:
30 serves
Amazing
Today makes it a week since I bought this product and it is amazing. I no longer feel so hungry and I have lost a few. I love how it gives energy too. I usually walk 2kg, but I was able to walk 3kg on day one of usage. I am Team Lipoxycut right now. Great job