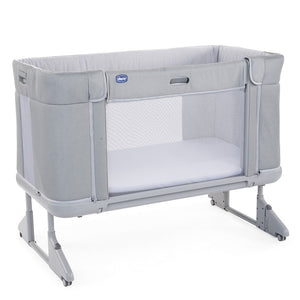 Chicco Next2Me Forever
A unique solution with 3 different functionalities up to 4 years old: travel cot, traditional cot and floor bed for toddlers. Designed to allow baby to sleep safely next to parents. Find all its features below.
Suitable for age: 0 months +
With Chicco Next to Me Forever you can practice cosleeping even after 6 months for better sleep for parents and child! It can also be transformed into a free-standing cot or a floor bed for toddlers inspired by the Montessori philosophy, to follow baby's growth up to 4 years old.
Much more than a crib, sleeping after 6 months
Extended dimensions and easy to open and close barrier with one hand to use as a cosleeping solution for as long as you need it.
Patented system
Chicco Next2Me Forever is a baby bed equipped with a safety interlocking barrier system which prevents the side rail from remaining lowered when the bed is not completely attached to the parent's bed to help parents always use the bed properly.
Floor Bed for Toddlers
Tool-less conversion into a floor bed to promote toddler independence, leaving them free to move in and out, as suggested by the Montessori method.
Airflow
Mesh windows on all sides improve airflow inside the bed.
Compatible with different beds
Thanks to 11 height levels and foldable legs to adapt the cot even to the bed with drawers.
Reclining
The bed can be adjusted to reduce regurgitation and improve comfort in case of nasal congestion.
Maneuverability
4 swivel wheels with brakes to move it freely around the house.
Before use, carefully read the labels, warnings and instructions on the product packaging