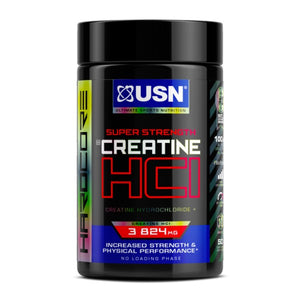 CREATINE HCL
✔ Most Absorbable And Soluble Creatine Available
✔ Increase Muscle Strength, Mass & Power
✔ Improve Recovery & Performance
CREATINE HYDROCHLORIDE
Creatine HCL is formulated with Creatine Hydrochloride, the most effectively absorbed form of creatine. Creatine HCL has been found to increase performance during high-intensity, short bursts of exercise, as well as increasing muscle mass and improving recovery. USN's Creatine HCL has enhanced bioavailability through our unique formulation, improving uptake and extending its effect
Suggested Use:
5 Capsules = 1 Dosage
Take 5 capsules with a glass of water before training. Combine with your favourite protein drink to improve muscle saturation to an even greater extent. On non-training days, take 5 capsules on an empty stomach, before breakfast.
Consume sufficient amounts of fluid before during and after exercise. Drink at least 2-3 litres of water per day while using USN CREATINE HCl.
For best results, follow an appropriate muscle gain eating plan and training program.