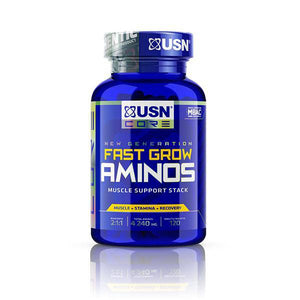 FAST GROW AMINOS
✔ Enhances Muscle Performance
✔ Supports Muscle Growth
✔ Enhances Muscle Recovery
MUSCLE SUPPORT STACK

USN's Fast Grow Amino's is a powerful source of amino acids which are the building blocks of proteins to build muscle, repair tissue and promote recovery. Fast Grow Amino's are formulated to enhance performance and endurance and can be used daily.
Suggested use:
Adults: Take 2 to 4 tablets 1 to 2 times daily, preferably before training, after training and before bedtime.
For general supplementation, take in-between meals.
For optimal muscle support, combined with a lean muscle gain eating plan and training program.
Do not exceed the maximum daily dosage.