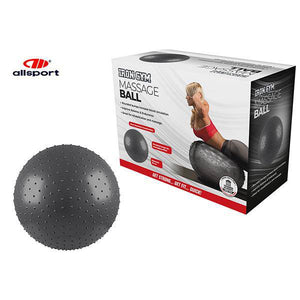 IRON GYM Exercise Massage Ball 65cm
Inflatable training ball manufactured to a very high-quality offering anti-burst resistance.
Perfect for stretching, training balance, torso strength, rehabilitation and massage.

Rounded bumps for increased blood circulation Iron Gym Exercise Trigger Ball is a versatile training tool that offers almost unlimited possibilities for variation.
You can train everything from mobility and coordination to balance and posture.

Training with Iron Gym Exercise Trigger Ball is easy to adapt to the level of experience and is therefore suitable for both beginners and elite athletes.
Iron Gym Exercise Massage Ball 65cm Features
Rounded bumps for increased blood circulation
Diametre 65 cm - ideal for users: 166 - 185 cm
Pump included
IRON GYM EXERCISE BALL 65CM SAFETY
Original IRON GYM Product - Accept No Imitations!
Rounded bumps for increased blood circulation
WHAT'S IN THE BOX:
IRON GYM Exercise Ball 65cm Pump