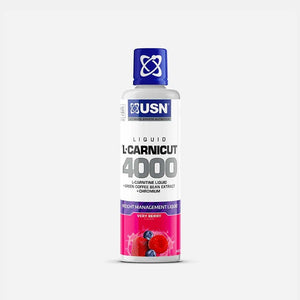 LIQUID L-CARNITINE, STIMULANT-FREE WEIGHT LOSS AID
Converts fat into energy

Boosts thermogenesis to burn more fat

Stimulant-free fat burner
L-Carnicut is a stimulant-free powerful source of L-Carnitine and other ingredients that may assist the conversion of fat into energy.
L-carnitine: a mitochondrial boosting agent that improves memory, mood and learning. It also helps your muscle mitochondria burn fat, which can increase your endurance and may help with faster recovery.

Chromium (as picolinate): maintenance of blood sugar levels.

Green coffee bean extract (Std. to 45% chlorogenic acid): may improve glucose metabolism and reduce blood pressure.
USE:
Shake bottle well before use.
Take 1 tablespoon (15 ml) twice daily, preferably on an empty stomach, as a dietary supplement.
On workout days: drink 30–60 minutes before training.
On non-workout days: drink any time throughout the day.
1 tablespoon (15 ml) = 1 serving

Do not use continuously for more than two (2) months without consulting your relevant health care provider.