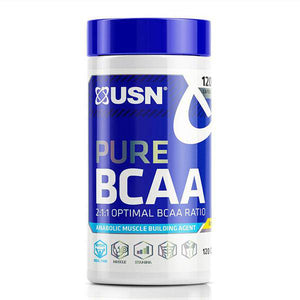 2:1:1 OPTIMAL BCAA RATIO
Pure BCAA is a premium amino acid supplement with a 2:1:1 ratio – known as the most effectively absorbed ratio of amino acids. BCAAs support muscle gains through a reduction of fatigue which aids in endurance, increased energy, and to aid in muscle repair and recovery.
USE:
USN's Pure BCAA is a high quality source of highly bioavailable amino acids in the ratio 2:1:1 (leucine:valine:isoleucine). This ratio has been found as the most effective and best absorbed ratio. Pure BCAA is formulated to aid in optimal exercise performance, better endurance and reduced fatigue as well as recovery.