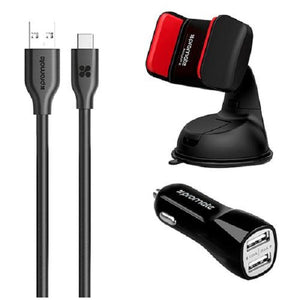 A portable 3-in-1 charging kit makes life easier by combining car charging, car holder and USB solutions packed into one. Just use the wall plug with the accompanying USB cable to charge your USB-C chargeable device at home, use the car charger while in your car, or just use the USB cable and plug it into any USB port to charge your device. No tools or adhesives required! Made from strong and sturdy material, your mobile phone is safe and secure with this hassle-free, easy to install car phone holder. A movable pivot to adjust to any viewing position you want makes Mount-2 truly a complete universal car phone holder solution for everyone.
GPS and Smartphone compatible
Features
Fast Charging 3.1A Car Charger with Dual USB Port:
High output 3.1A car charger ensures you never run out of battery while driving. This twin-port high-speed charging into an incredibly compact power source for any phones or tablets on the road.
Designed to Charge Two Devices at The Same Time:
The Promate AutoKit-HM 3.1A Dual USB Universal Car Charger 12-24V has dual USB ports so it can charge two devices simultaneously. With this charger, you will not have to decide what device to charge as you can charge both include a smartphone and a tablet.
Sleek, Compact Design:
The Promate Car Charger is extremely fast, but it is also small in Size. Plug it into your dash, and it seamlessly blends in with your car's interior.
Includes Removable USB Type-C to USB Cable:
The Promate Car Charger comes with a 1.2 Meter USB Type-C to USB cable so that you can charge your tablet or smartphone at the fastest possible speed. Moreover, because it is removable, the cable can be used anywhere--plug it into your laptop to charge and sync or use your car charger to charge on the go. Great as a replacement cable or if you simply need an extra. Compatible with most tablets and smartphones with a USB Type-C port.
Reversible Design:
Premium Aluminium reversible plug connector that fits facing up or down Plug and unplug easily without checking for the connector orientation, USB C helps you insert the connector to your devices in a right way all the time. Extra Long 1.2m Cable, you can lie on the couch and use your devices freely in your bedroom, office and even in the backseat of your car.
Allows Simultaneous Charging and Syncing of Your Type-C Device:
This quality cable allows you to connect your Smartphone to your laptop or desktop, to charge your phone and exchange/sync data simultaneously. This charger set charges all other non-fast devices as well. It will charge USB 2.0 phones and tablets that use TYPE C cable at their normal speed. Syncs and transfers files via TYPE C USB data cable.
Strong Tangle Free Design:
Tangle-free PVC coated design increases the cable durability, can bear 10000+ bending test and prevents it getting damage during pull and plug.
Charge Other Non-USB-C Devices with The Universal Mains Adapter:
The Car charger features a universal Dual USB charging port, allowing to charge Lightning, Micro USB and other connections when you use your existing charging cables.
Compatible with Most Mobile Devices:
Compatible Type-C device: Samsung Galaxy S8/ Note8/ S8+, S9, S9+, LG G6 G5, LG V20, Apple New MacBook, OnePlus 3T 2, Google Nexus 5X, Nexus 6P, Google Pixel, Lumia 950, Lumia 950XL, Moto z, Moto g5, Chromebook Google Pixel, Asus Zen AiO, Lenovo Zuk Z1, HP Pavilion X2, ASUS ZenPad S 8.0, Huawei P10 P9, Huawei Mate 9, Galaxy S8, Nintendo Switch and other USB type c cable device.The Dual USB 3.1 Port is universal, so you can plug in any USB charging cable to charge a variety of different Smartphone and Tablet devices at the fastest possible speed, including any brand smartphone, any brand tablet or any another mobile device. To begin charging, simply plug in the USB cable that came with your device